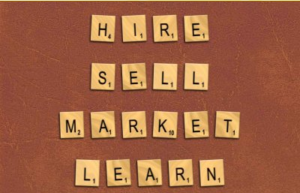 You probably signed up for your LinkedIn account years ago, added a few contacts from your past jobs, and half-filled out your profile. Other than the occasional new contact request that you accept, you might not really be taking advantage of the services the platform offers.
With 500 million members in over 200 countries, opportunities abound. The platform touts its major services as Hire, Market, Sell, and Learn. Let's break down how to better use these functions.
LinkedIn Services
Hire
Are you doing the hiring or looking for your next opportunity? Human Resource managers use the site to search for and cold call potential candidates that might fit their company's job openings. In today's job market waiting until you're in need is too late. That goes for both HR reps and job seekers.
Every time you log on, the LinkedIn fairy tells you everyone you know, have ever known, and could possibly have passed in the hallway. Give a scroll through the "People You May Know" lists periodically and click "Connect" with abandon. The worst thing that can happen is that your connection request goes ignored. Most people come around eventually—they might just need to put some distance between themselves and the job they left.
Build your network. Also, look at who people you know are connected to in order to see if there are any useful or surprising overlaps. Having a strong network in place will be a great advantage when you have a need in the future.
Market
One way to use LinkedIn is to market yourself. Professionals market their skills in hopes of attracting a hiring manager. This seems to work best when you appear to not actually be looking for work. You also can use the platform to market your freelance or consulting practice.
For businesses, LinkedIn offers a way promote your services and company mission. The platform has also boosted its marketing services by providing stronger options for publishing sponsored content (available with conversion tracking); sponsored emails that can target users; and dynamic, targeted ads. Think of LinkedIn as a marketing and publishing platform that can advance your business goals. 
Sell
LinkedIn can provide sales lead recommendations and real-time sales updates based on identified prospects to help you expand your business. The tools are designed to help you reach decision makers. Here are some tips for maximizing the tools for prospecting.
Learn
From webinars to articles and blog posts, the platform provides plenty of ways to stay updated about current trends and issues. You can provide professional learning by publishing posts highlighting your areas of expertise. Steer away from promotional content in your posts. Instead, use them as an opportunity to inform. Offer strategies to help solve a problem and share resources. Well written content can help you generate sales leads, gain the attention of recruiters, and network with colleagues in your field. Check out ideas for getting the most out of the publishing platform here and here.
LinkedIn also allows you to take or offer self-paced e-learning courses. Based on your skills and interests, LinkedIn can recommend free and fee-based courses for you to try. You can find an array of professional topics from content writing to managing stress to building a positive workplace culture.
If you haven't done so, it's time to start strategizing about how to get more out of your LinkedIn presence.