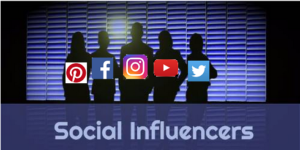 Word-of-mouth buzz has always been the secret to success. Getting people talking about your product in an authentic way goes a lot farther than carefully crafted TV ads. Now more than ever word-of-mouth drives sales.
Often, when people are seeking the hottest product, trend, or band, they look to social influencers for a tip. Social influencers are people who have gained anywhere from thousands to millions of followers on social media. Whether they are actors, CEOs, professional athletes, stay-at-home moms, or students, they hold sway over public opinion. They are tastemakers, movers, and shakers whose every brand endorsement causes a ripple in the marketplace. They have an audience of superfans who trust their opinion.
Want to gain greater social media exposure for your business and your brand? Try collaborating with social influencers. Easier said than done, right? Here are some strategies for connecting and partnering with influencers.
Collaborations can take many forms from product endorsements to ongoing social campaigns to content sharing and publishing. An influencer might publish a series of posts on your company blog or allow you to submit content to his blog. He could do a joint social media campaign with your company, which would serve to expand your audience and reach and also connect you to the influencer's audience. From a one-time collaboration to an ongoing series the benefits could be huge.
Strategies for Partnering with Social Influencers
Pick Your Friends Carefully
Consider carefully who you decide to partner with to make sure you are enhancing rather than damaging your brand. Ask yourself, what would the benefits be of collaborating with a particular influencer and what would you have to do or provide in exchange for that exposure?
Do Your Research
To find the influencers in your industry, start by listening first. Use social media tracking tools that track, organize, and analyze conversations so you can start to see the big picture and determine who really has the greatest reach, connections, and influence.
Set Goals
Whether your desire is to have an influencer retweet or share your content with their audience, write a column for your publication, or participate in a Twitter takeover, set goals for what you want that collaboration to achieve.
Make it a Two-Way Street
There is no free lunch. If you hope to tap into an influence's audience, you have to offer something valuable in exchange. Whether that value is monetary or in exchange for services, whether it is through content opportunities on your social media platforms, or use of the influencer's logos, the exchange should be mutual to be beneficial.
Don't Go In Cold
No one wants to be used. Social media is not strictly transactional, it's social and relational. Before approaching an influencer about collaboration, do your homework, join the conversation, and spend some time understanding what matters to him or her and what will help to advance his or her brand. Be sure to engage appropriately.
Track the Results
How did the collaboration work? Was the result worth the effort? Track the results so you can refine your strategy for next time.
Social influencers can help you boost awareness and sales. They can add legitimacy and authority to your products. They can be spokespeople in the marketplace. Be smart and strategic about how you choose to work with influencers. One more thing. Remember to have fun! Collaborating with an influencer can be exciting because these partnerships allow you to do something creative and different.