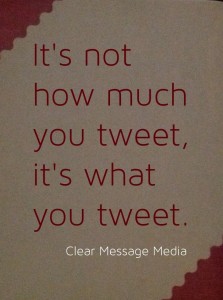 I work part-time for a university writing center. We are trying to build awareness through our social media presence about the writing services we offer students. I have been tasked with maintaining our Twitter feed. On average, I send out a Tweet once every other day. I thought for sure I was communicating with our followers enough and that more Tweets would be a nuisance.
I was wrong.
It turns out that Tweeting two to five times per day may be the better way to go. In a 2012 study, Track Social followed the Twitter activity of major brands in an effort to find out if increasing Tweet frequency led to more Retweets (a way to increase connections when one of your followers repeats your Tweet). Track Social learned that when a brand Tweets two to five times per day, the brand gets more Retweets per Tweet (by up to 300%) compared to when the brand Tweets only once a day.
"Twitter is a high-volume channel, and unless you Tweet enough to get noticed you may be wasting your effort," Track Social stated.
But, there is a difference between Tweeting enough to get noticed and Tweeting too much, which may hurt your marketing efforts. You will quickly know if you are sending out too many Tweets when followers start complaining and mark you as spam, or when you begin to lose followers. (As part of our Twitter 101 series, look for more information in a future blog post about Twitter etiquette and the ideal Twitter follower/following ratio).
It's Not How Much You Tweet, but What You Tweet
Social media experts agree that even though updating your Twitter feed regularly is important, it is not as important as engaging with your followers.  Therefore, if you cannot post multiple times a day, focus instead on making your Tweets valuable. A blog post on Marketing Huddle gives excellent advice on how to communicate with followers. Rather than only Retweeing other people's content, for instance, provide original content tailored to your audience. You can Retweet on occasion, just make sure it is not the only thing you do on Twitter.
My colleague at another university writing center does an excellent job with the Twitter account she manages. Each day she sends out a Tweet personally naming new followers and welcoming them to her Twitter feed. She also writes about five Tweets a day with original content—in her case, grammar and writing tips that the students love to Retweet. She asks her followers to Tweet grammar questions and she answers each question. This technique has created a lot of back-and-forth discussion on Twitter and her number of followers has grown rapidly over the last few months. She is definitely drawing positive attention to the writing center and creating awareness about its services.
Keep Your Twitter Feed Up to Date!
As Carole wrote in a previous blog post, when you create a social media channel (like a Twitter feed), it becomes a "hungry monster" that needs to be fed. This can be time-consuming and a little overwhelming.
One way to help maintain your social media efforts is to create a schedule and stick to it. Figure out how many Tweets you can realistically send out per day and then make that your goal. To keep on track, you can also schedule your Tweets for the day, week, or month using a social media management tool such as HootSuite. Once you import your Tweets into HootSuite, the program will send them out on the date and time you indicate.
So, tell us:
How often do you Tweet?;
How do you engage your followers?; and
How do you keep your content relevant?
We would love to hear from you in the comments below.