As you consider your social media strategy, do you know who is using the social media channels where you plan to post your company's content? Millennials aren't the only ones to consider when creating content for your channels; and don't be so quick to assume how users over 65 use social media. Check out these stats to learn more.
According to the 2016 Nielsen Social Media Report Social Studies: A Look At The Social Landscape, it's time to rethink who is using social media the most. The study shows that Generation X users are more glued to social media than younger users.
"Adults 35 to 49 were found to spend an average of 6 hours 58 minutes a week on social media networks, compared with 6 hours 19 minutes for the younger group. More predictably, adults 50 and over spent significantly less time on the networks: an average of 4 hours 9 minutes a week," the New York Times reports. While the difference between Generation X usage and millennial usage may not seem like a huge gap, it does refute the stereotype of younger adults being more obsessed with social media than other groups. Read the full report here.
According to the new Social Media Fact Sheet by Pew Research Center, based on survey data through 2016, here is a breakdown of the platform usage by age demographic:
Facebook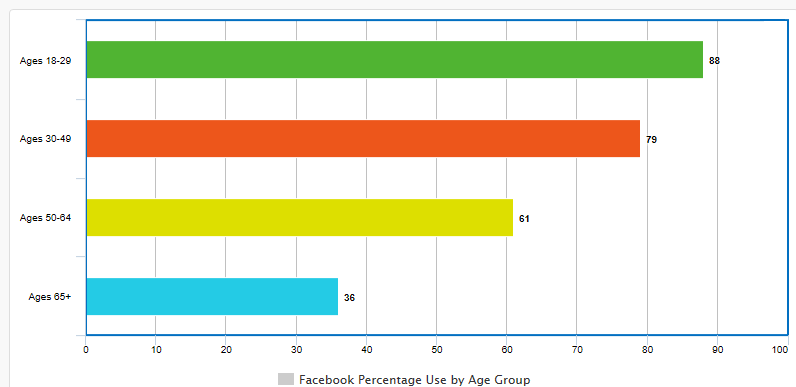 The majority of young and middle-age adults use Facebook.
Ages: 18-29 – 88% use
Ages 30-49 – 79% use
Ages 50-64 – 61% use
Age 65+  – 36% use
Twitter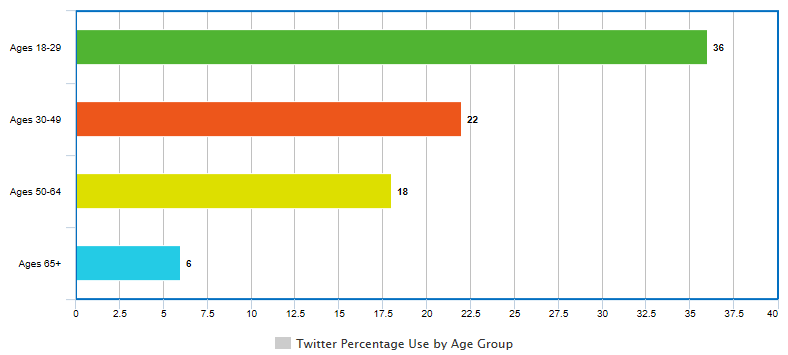 Twitter lags significantly behind Facebook use for all groups.
Ages: 18-29 – 36% use
Ages 30-49 –  22% use
Ages 50-64 – 18% use
Age 65+   – 6% use
Instagram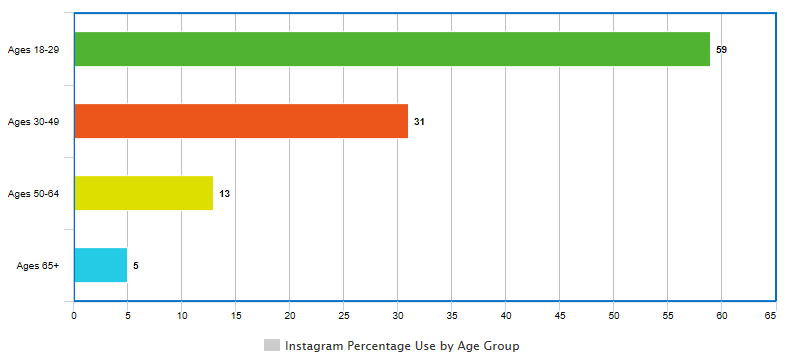 Instagram is the go-to for many young adults, while adults over 65 show little interest in the platform.
Ages: 18-29 – 59% use
Ages 30-49 –  31% use
Ages 50-64 – 13% use
Age 65+   – 5% use
Pinterest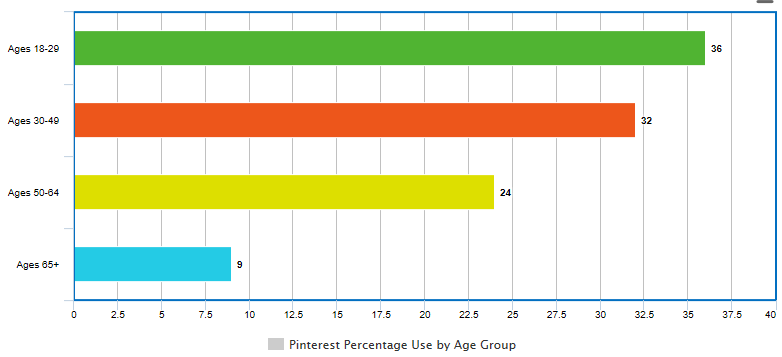 Pinterest use seems fairly evenly split amongst users 18-49, with fewer users over 50, and very few who are over 65.
Ages: 18-29 – 36% use
Ages 30-49 –  32% use
Ages 50-64 – 24% use
Age 65+   – 9% use
LinkedIn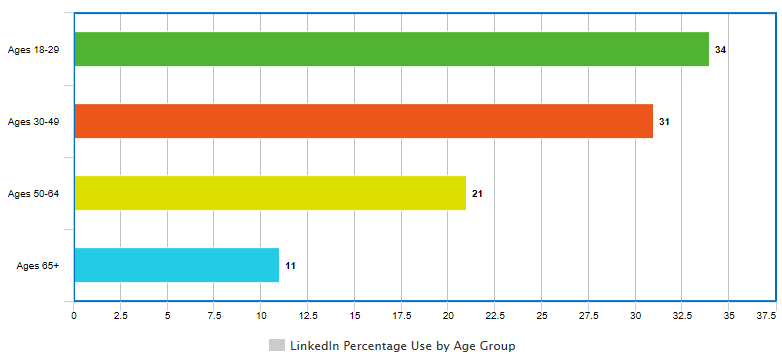 Young adults use LinkedIn the most, closely followed by 30-49 year-olds.
Ages: 18-29 – 34% use
Ages 30-49 –  31% use
Ages 50-64 – 21% use
Age 65+   – 11% use
What does this data show? It shows that when you post on your social channels, you might not be talking to who you thinking you are talking to, which means your message might be getting lost. Surveys show that users of different age groups use social media at different times and on different devices, both of which should be taken into account as you look at your social media strategy.
Looking at the data, Facebook and Instagram are the clear winners for the youngest adults, while Facebook has also become a favorite for 50-64 year-olds. More young people are using LinkedIn than anyone else, and Twitter isn't reigning quite as supreme as advertisers might think.
When thinking about how to reach, engage, and serve your customers of different age groups, look at the numbers. Determine what energy and effort you want to invest in differentiating your messages and content in ways that will align with your business goals. You should also consider purchasing power by generation. This infographic helps to break down the data.
It's important to be smart, savvy, and intentional with your social media strategy to keep your fans and followers coming back for more.
Do you have tips for engaging social media users by generation? Comment with your ideas.